This group is currently full. Please contact Group Liaison to be included on the Waiting List, or, another group may be started if interest is high.
This group started in July 2012

Members Homes

Meeting Time

Second Wednesday 10am - Noon

Group Co-ordinator

Val Vardon

Contact Number

Group Liaison: 023 9224 0341


To contact the group co-ordinator please email the group liaison officer via our contacts page
From March 2015 we looked at the Regency period. Now in 2016 we've been concentrating on the Pre-Raphaelites and artists associated with the movement. So far we've looked at the life and work of the painters William Holman Hunt, Dante Gabriel Rossetti, Ford Madox Brown, John Everett Millais, Arthur Hughes, Edward Burne Jones and the sculptor Thomas Woolner. To complement our study, we've also watched a series on DVD
on the Pre-Raphaelites and some of us went on a trip in April to the exhibition at the Watts Gallery on the art of a lesser-known Pre-Raphaelite artist, Marie Spartali Stillman, who worked mainly in watercolour.

Photo: Val, Jane and Sue at the Watts Gallery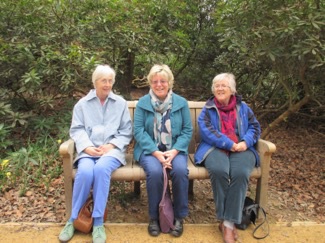 Click here for further details of our studies and the visits we have made
---
Art History 2
This group is currently full. Please contact Group Liaison to be included on the Waiting List, or, another group may be started if interest is high.
This group started in Jan 2015

Denmead Community Centre

Meeting Time

First Tuesday 2pm - 4pm

Group Co-ordinator

Liz Hauge

Contact Number

Group Liaison: 023 9224 0341


To contact the group co-ordinator please email the group liaison officer via our contacts page
Our first year
Art History 2 started on 3 February 2015 and we had a very busy first year. We found that we had a very wide range of interests, but a common interest in Impressionism, so we began by researching Impressionism to tie in with the National Gallery exhibition 'Inventing Impressionism' which ran from 4 March to 31 May 2015 and which a number of us visited and enjoyed. In addition to French Impressionists, we researched and presented the work of some of the most famous American Impressionists and we showed our work, mostly in the form of Powerpoint presentations, at the Summer Open Day.
Some of us also reported on visits to museums and those of us who were around in August had a very enjoyable group visit to the 'Sickert in Dieppe' exhibition at Pallant House.
In the autumn, a new member, newly-retired, gave us a very interesting illustrated talk on her career as a museum curator - which had some very exciting moments over the years! Having enjoyed the BBC's Fake or Fortune series, we also watched a very interesting follow-up documentary about the family of forgers featured in one of the programmes. In October, having noticed that a number of London galleries were showing autumn exhibitions of portraits by various artists, we decided to focus our research on portraits by a wide range of artists across the centuries. We began by watching two recordings of portrait painters at work, one classically trained, the other self-taught, which led to a lively discussion of the merits of each painter and their approaches to portrait painting. Two of us attended the U3A Study Day on Portraiture at the National Gallery towards the end of November and fed back to the group in the New Year.
2016
We moved to our new, very comfortable, home at Denmead Community Centre in February and settled down to work. We have spent the first half of this year studying portraits painted by Rembrandt, Hogarth, Gainsborough, Romney, Vigée Le Brun, Ingres, Millais, Repin, Picasso and Hockney and we ended our study of portraits in June with a look at how three artists represented British monarchs and their families: Holbein and Henry VIII; Van Dyck and Charles II; and Winterhalter and Victoria. Click here to see some representative portraits from the presentations made by group members.
In June, together with some members of Art History 1, we went to Southampton City Art Gallery (https://www.southamptoncityartgallery.com/) for a 'Behind the Scenes' tour which was very interesting. Our guide, Tim, took us to the stacks and we saw a number of paintings and other works of art which were not on current display for various reasons, including Claude Monet's 'The Church at Vétheuil', which was destined to go on loan soon after our visit. Afterwards, we visited the 'Beasts or Best Friends – Animals in Art' exhibition (2 April – 14 September 2016) and also revisited The Perseus Series in the Baring Room.
In July, we went to Portsmouth City Museum (http://www.portsmouthcitymuseums.co.uk/) where we had an excellent introduction to the exhibition of paintings by Edward King (1862-1951) from its curator, Susan Ward. King, one of three children born in Kensington to affluent parents, studied music and art in Leipzig and had a successful career as an artist and illustrator on his return to England. He exhibited his paintings regularly at the Royal Academy and his illustrations appeared in magazines such as Punch and The Illustrated London News. He knew Whistler and Sickert and many other artists who were his contemporaries at that time. He was also, as an accomplished musician himself, a friend of Sir Henry Wood. Van Gogh, on a visit to England, was so impressed by a King illustration of a group of workmen on a train in The Illustrated London News that he bought the magazine and may have been influenced by the composition when he produced The Potato Eaters.
In 1884, King moved to Hampshire with his brother Gunning, also an artist, and he later married there. In 1924, his wife, Amelia, sadly died of consumption and King suffered a mental breakdown. In 1925 he was committed to St James' Hospital in Portsmouth, where he spent the rest of his life until his death following a stroke in 1951 at the age of 89. While at St James' Hospital, King was encouraged to paint to help him deal with his depression and, accompanied by a hospital attendant, he went out and produced many paintings of the hospital grounds, the hospital farm and the houseboats at nearby Milton Locks. In 1941, he was commissioned by the Lord Mayor of Portsmouth to produce a series of paintings detailing the aftermath of the bombing. The exhibition at the City Museum includes around 70 paintings dating from his time in Portsmouth, with the addition of photographs of the city, archive material and some contextual objects from Portsmouth's museum collections. Click here to see some photographs taken at the exhibition (All paintings © Portsmouth City Museum).
Following our visit to the exhibition, we were given a guided tour of the upper floors of the museum by our member, Ros Hardiman, who retired last year as Head of Collections for Portsmouth, so we not only enjoyed our visit, but learned a great deal more than we might have done had we been unaccompanied. If anyone is thinking of going to the museum, we would strongly recommend it – and we can also recommend the little museum café where we had lunch beforehand.
In the second half of 2016, in Film Month (August) we watched the DVD of 'Effie Gray' which was much enjoyed by everyone. Autumn 2016 saw members taking turns to give presentations on some of the Art Galleries and Museums which we had enjoyed visiting. These included The National Gallery of Scotland in Edinburgh; Havant museum; the Portsmouth museums; Manchester Art Gallery; and the Wallace Collection. In December we took a break from our studies and had an enjoyable Christmas lunch meeting with a Christmas Art Quiz.
---
2017
January – June
Our topic for the first quarter of 2017 was Art Nouveau. We began with a comprehensive introduction to Art Nouveau, looking at its origins in Britain with the Art and Crafts movement and the Pre-Raphaelite Brotherhood, and how it developed in Europe and across the world in terms of architecture, graphic design, fine arts, decorative arts and retail. Members then chose aspects of Art Nouveau which they wished to research and present in more detail: the work of Charles Rennie Mackintosh; Gustav Klimt; Art Nouveau posters; Arthur Liberty; and Art Nouveau architecture on Barcelona. In May, we moved on to study Art Deco with presentations on Charles Holden and London  Underground Stations, Eugene Savage, Eltham Palace and, finally, Three Art Deco Buildings in New York City.
------------------------------------------------------------------------------------------------------------------------------------
Images for Art Nouveau
 Métro entrance by Hector Guimard, Paris 1900
Ryabushinsky Palace by Fyodor Shekhtel, Moscow 1900-02
Singer building by Pavel Suzor, St Petersburg 1904
Charles Rennie Mackintosh (1868-1928) Chairs
The Glasgow Rose design which Rennie Mackintosh used extensively.
Gustav Klimt (1862-1918) Portrait of Adele Bloch Bauer 1907
Gustav Klimt (1862-1918)   Sunflower 1906-7
Théophile-Alexandre Steinlen (1859-1923)  Tournée du Chat Noir (1896)
Leonardo Bistolfi  (Italian, 1859-1933) Poster for the First International Exhibition of Modern Decorative Art, Turin 1902
The original Liberty store at 218A Regent St, early 20th century
Diadem Comb, designed by Archibald Knox (1864-1933) for Liberty &Co (c 1900)
Casa Batllo, Barcelona. Façade by Antoni Gaudi i Cornet (1904-6)
Casa Lleó Morera designed by Lluis Domenech I Montaner (1864)
Images for Art Deco
Chiswick Park Underground redesigned by Charles Holden (1933)
Southgate Underground designed by Charles Holden (1933)
Eugene Savage (1883-1978)  The Bailey Fountain (1932) Brooklyn, NYC
Eugene Savage The South Hall mural, Columbia University (1934)
Eltham Palace (1933-6): The Ground Floor Dining Room by Peter Malacrida
Virginia Courtauld's Bathroom, also designed by Peter Malacrida
The Chrysler Building (1931)
Elevators in the Empire State Building  (1931)
Atlas at the Rockefeller Center (1937)