There are two Modern History Groups
Modern History 1 (From 1500)
This group is currently full. Please contact Group Liaison to be included on the Waiting List, or, another group may be started if interest is high.
This group started in Jan 2006

Members homes

Meeting Time

Thursday 10am fortnightly

Group Co-ordinator

Ted Packer

Contact Number

Group Liaison: 023 9224 0341
or 023 9225 2207

To contact the group co-ordinator please email the group liaison officer via our contacts page

Quiz Winners September 2015
Modern History is a friendly group which meets every fortnight on a Thursday at 10.00am. Members prepare a brief talk to open a discussion on a topic of their own choice. Topics tend to cover themes from the fifteen hundreds to the present day but subjects from outside this time can be covered if it is of particular interest to the member. Group members support one another in preparation of talks. Trips to historical sites and visiting speakers are occasional additions to the fortnightly meetings. Topics for recent talks have included Christianne Welch - a Woman in Marlborough's Army, Jesse James, Charles Lindbergh, W. T. Stead, Rudyard Kipling, Vera Brittain, Zanzibar, The First Dictionary, The Pitt Family, Children's Authors and Illustrators and Edith Cavell ;
New Forest trip - Sept 2016
Modern History 1 (From 1500) took a trip into the New Forest recently to visit Buckler's Hard. Blessed with a beautiful sunny day we visited the excellent museum and then sustained by a very nice lunch we took a cruise down the Beaulieu River.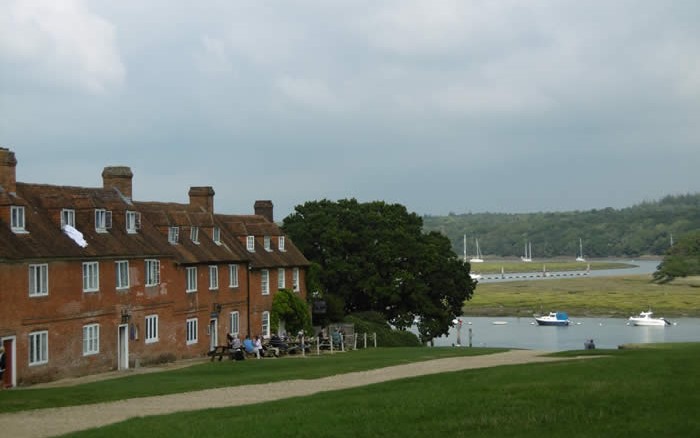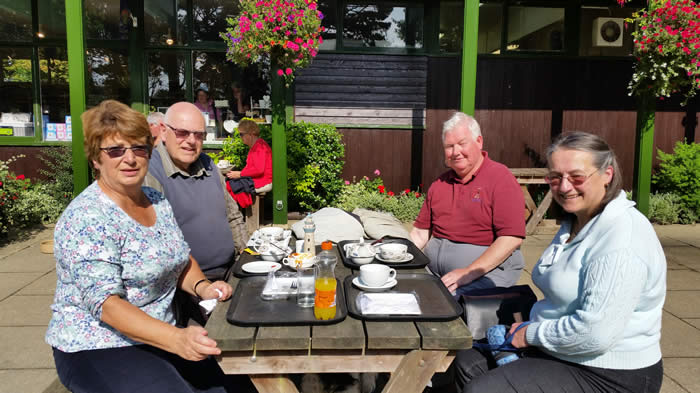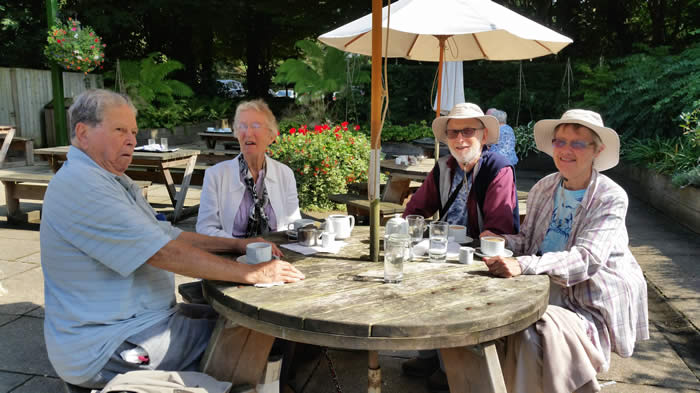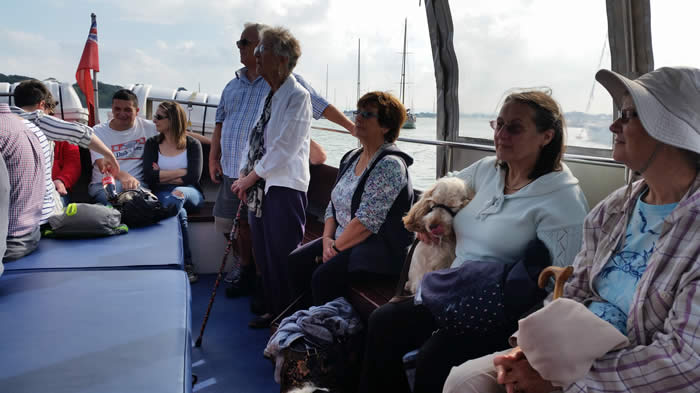 ---
Modern History 2 (From 1500)
This group started in Oct 2015

Members homes

Meeting Time

1st & 3rd Tuesday 2.30pm

Group Co-ordinator

David Turland

Contact Number

Group Liaison: 023 9224 0341
or 023 9225 2207

To contact the group co-ordinator please email the group liaison officer via our contacts page
MAY 2017
Sue gave a talk on the effects of the Great Plague in 1665 and 1666 on two very different locations, the City of London and the village of Eyam in Derbyshire, where the villagers chose to isolate themselves rather than let the infection spread.

For our second talk this month Sandra continued her talk on Joseph Banks. He held the position of President of the Royal Society for over 41 years and advised King George III on the Royal Botanic Gardens, Kew. By sending botanists around the world to collect plants, he made Kew the world's leading botanical gardens. Banks advocated British settlement in New South Wales and colonization of Australia, as well as the establishment of Botany Bay as a place for the reception of convicts.

APRIL 2017
Kay gave a talk on Granville Sharp, who was one of the first English campaigners for the abolition of the slave trade. In the mid-1780s, he became a supporter of the Sierra Leone resettlement project, which encouraged former slaves, first from Britain and then from Canada, to settle in West Africa.
MARCH 2017
David continued the life of Peter the Great. It included his Great Embassy to Europe and his subsequent reforms of Russia including the notorious beard tax!
FEBRUARY 2017
Tom gave a talk on a short history of the computer. It included the contributions of Blaise Pascal, Charles Babbage, Tommy Flowers and Steve Wozniak.

JANUARY 2017
For our first meeting this year each of us presented a short talk on 'Influential Women'.
Marie Stopes was a British author, palaeobotanist and campaigner for eugenics and women's rights. She made significant contributions to plant palaeontology and coal classification, and was the first female academic on the faculty of the University of Manchester. She was better known for setting up Birth Control clinics.
Mary Seacole was a Jamaican woman who set up the British Hotel behind the lines during the Crimean War. She described this as "a mess-table and comfortable quarters for sick and convalescent officers", and provided succour for wounded servicemen on the battlefield.
Grace Hopper was an American computer scientist and United States Navy Rear Admiral. In 1944, she was one of the first programmers of the Harvard Mark I computer and invented the first compiler for a computer programming language.
Emily Pankhurst was a British political activist and leader of the British suffragette movement who helped women win the right to vote.
Gladys May Aylward (24 February 1902 – 3 January 1970) was a British evangelical Christian missionary to China, whose story was told in the book The Small Woman, by Alan Burgess, published in 1957, and made into the film The Inn of the Sixth Happiness, starring Ingrid Bergman, in 1958.
Sacajawea was a Lemhi Shoshone woman who helped the Lewis and Clark Expedition achieve each of its chartered mission objectives exploring the Louisiana Purchase. With the expedition, between 1804 and 1806, she travelled thousands of miles from North Dakota to the Pacific Ocean, established cultural contacts with Native American populations, and researched natural history.
Cynthia Ann Parker was an American of European descent who was kidnapped in 1836, at the age of about ten by a Comanche war band, who had massacred her family's settlement. She was adopted by the Comanche and lived with them for 24 years, completely forgetting her American ways. She was recaptured by the Texas Rangers, but spent the remaining ten years of her life refusing to adjust to life in white society.
Barbara Scott Young is a Labour member of the House of Lords. She was created a life peer in 1997 as Baroness Young of Old Scone. She spent her whole life working in administration, at first with the NHS. She became CEO of the RSPB in 1991 and modernised the organisation, opening their first cafe at Pulborough Brooks, a radical move at the time.

For our second meeting this month Malcolm gave us a talk on the Iron Curtain, with some personal experiences of people who had been on both sides of the divide. These included an Air Traffic Controller in West Germany 1957-59 and a woman who attempted to visit her husband's grave from the West and was arrested and sent to a Siberian Labour Camp. She was later released and had a guided tour of Moscow!
DECEMBER 2016
Ken gave a talk on a history of the suffragettes, members of women's organizations in the late-19th and early-20th centuries which advocated the extension of the right to vote in public elections to women.
Later in December we were invited to join Modern History 1 for their annual Christmas meal.
NOVEMBER 2016
Sandra gave a talk on the early life of Joseph Banks who joined Captain Cook and discovered Australia.
For our second meeting John gave a talk on the social conditions in Georgian society in the 1780s that led to the policy of transportation of convicts to Australia.

OCTOBER 2016
David gave a talk on the eventful early life of Peter the Great of Russia. It included the Moscow uprising of 1682, his time as joint Czar with his half-brother Ivan and the Regency of his half-sister Sophia. Peter became sole Czar at the age of 25.
SEPTEMBER 2016
For this meeting we each gave a short talk on an event in our lifetime, and how it affected us.
We discussed:
• Conscription
• The Millennium
• The Fall of the Berlin Wall
• The 2012 Olympics
• Decimalisation
• The new polymer £5 note
AUGUST 2016
Ken gave us the second part of his talk on T E Lawrence. It covered Lawrence's time in the RAF to his untimely death in a motorcycle accident.
JULY 2016
Sue gave a talk on the life of Florence Nightingale, the founder of modern nursing. The talk included her work as a statistician and tireless social reformer.
JUNE 2016

Ken gave a talk on the early life of T E Lawrence, the British author, military officer and diplomat. Lawrence was renowned for his liaison role during the Sinai and Palestine Campaign and the Arab Revolt against the Ottoman Empire during the First World War.
MAY 2016
No meeting.
APRIL 2016
Malcolm gave a talk on the Abdication Crisis of 1936, when King Edward VIII proposed to marry Wallis Simpson, an American socialite who was divorced from her first husband and was pursuing a divorce of her second.
MARCH 2016
We had a talk on the Great Exhibition of 1851. The 'Great Exhibition of the Works of Industry of All Nations' was instigated by Prince Albert, designed by Joseph Paxton and attracted some six million people.
FEBRUARY 2016
John gave an introduction to the history of terrorism, looking at both modern and early terrorists. This prompted a lively discussion across many areas including could terrorists change and become statesmen, could terrorist acts ever be justified and whether anti-government agitators were terrorists.
JANUARY 2016
David gave a talk on the Turnpike trusts. These were bodies set up by individual acts of Parliament, with powers to collect road tolls for maintaining the principal roads in Britain from the 17th but especially during the 18th and 19th centuries. At their peak, in the 1830s, over 1,000 trusts administered around 30,000 miles (48,000 km) of turnpike road in England and Wales, taking tolls at almost 8,000 toll-gates.
NOVEMBER 2015
At our first meeting we each gave a short talk on an historic event in our lifetime that we found interesting and/or which had affected our lives.
We discussed:
Decimalisation
The Abolition of Capital Punishment
The Falklands War
The start of Comprehensive Schools
The fall of the Berlin Wall
and
The (unsolved) mystery of the tin coffin!
Not bad going for the first meeting!